Im looking for ideas to resin tint a swallow tail fish
lets see em guys!
I am not sure if you can use poly on xps, I think it will eat through it. just paint it all funky with spray paint on the hot coat and make it punk rock board.
I hope you chew well before you swallow fish.
couldn't resist
Now that you mentioned it ,it did sound a bit fishy
I fixed it
Here's the last one I did a couple months ago…Full resint tint top and bottom, same color, cutlaps, etc…I call it "#2 pencil yellow". Not very "fancy" or eye catching, but VERY hard to get clean, and much more satisfying when all is said and done (to me).
tenover
was that your first go at it?
It looks good!
Im thinking about doing a multi colored burst on the bottom with a cutlap deck
very lite tint on the deck
all translucent colors
pinlines on cutline
i read your writeup on the build of that board tenover
and i don't know if i mentioned it then but that board is
just beeeyooooteeeefoool !!!
great job!
Kensurf:
Here is an EPS/Epoxy swirl job with epoxy pins from August.
Tom S.
tomas
nice!
was that in the lam or sand coat?
Here's a paipo done with UV poly. I masked off the bottom at the cutline, did the bottom as an inlay, trimmed it, then glassed the top and rails - trimmed at the inlay. This was followed by a second deck lam layer with wide freelaps that extended past the cutline to the bottom inlay.
Heres a 10'0" im workin on with the boys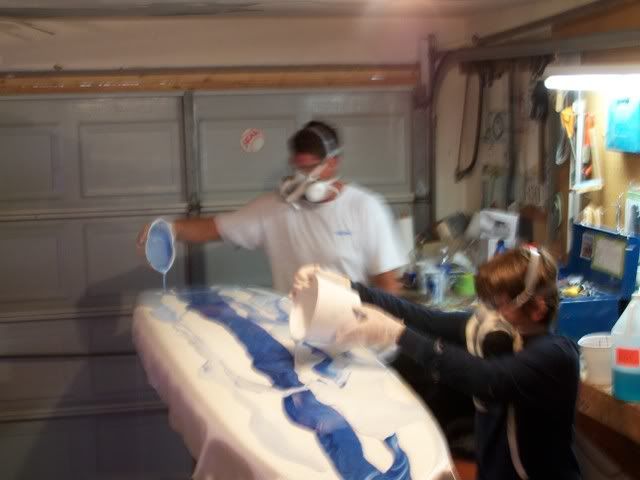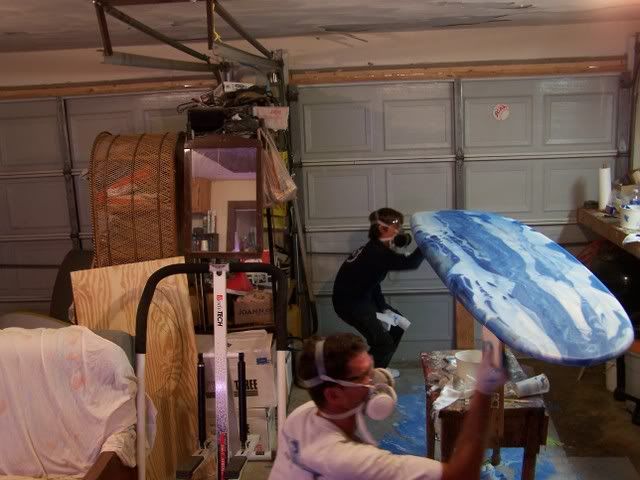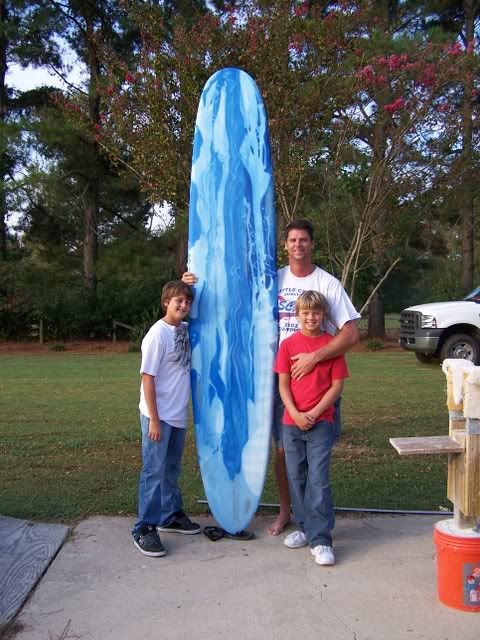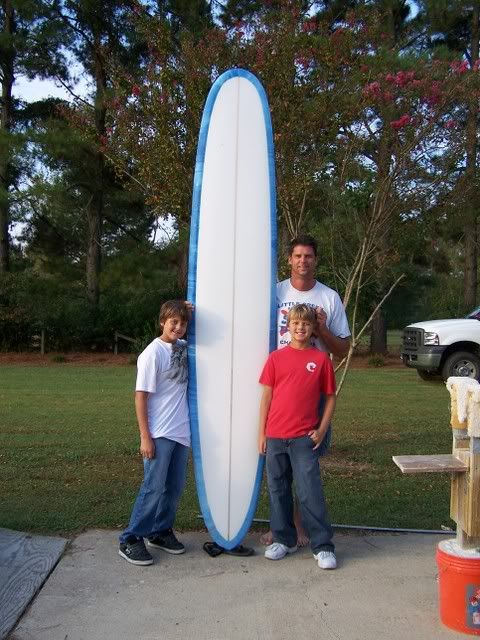 Kensurf:
4 oz. deck inlay with epoxy swirl. Opaque white bottom cut lap to deck panel. Deck was then laminated clear with 2 X 5 oz.
Tom S.
Very nice. Love the look. Did you happen to see Cleanlines DVD on glassing?
OK, that is pretty much the best looking Epoxy swirl I have ever seen. How did you finish it?
Greg, Yes I did see cleanlines video and loved the blue and white swirl he did. Ive tried five other swirls before this one each time using diffrent colors, but this color combo is definitely my favorite. Red and black is cool as well.
Tenover: Always love your boards…That is a super clean cutlap resin tint… Ive had to pinline my first couple of cutlaps because i didnt make clean cuts.Yours rock! Love that fin as well.
Tomas: That is a sweet color combo! What colors did you mix to get that effect? Sharp looking fish!
Bob
…very nice
but the problem with those inlays is that you finish without 1 layer in the rail
so less rigidity
and more weak too (the rails needs more cloth, due to the necessary stiffness and the shaping itself -more foam mowed-)
Red tint & green paint can swirl all la Mr Clean.
Ian
Pair for fun
this was done in the resin…a little different?
first bottom lam on one a while back
one more striper for kicks
hope you get some inspiration